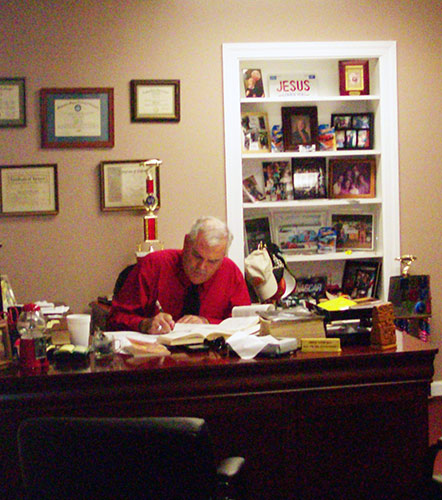 Ralph Lee, Jr., was born and raised in Cedar Mountain, NC, a small community just south of Brevard. He grew up in a wonderful Christian environment both at home and in church. At the age of sixteen, he surrendered his heart and life to the Lord Jesus Christ at Rocky Hill Baptist Church and two years later he surrendered to the call to the ministry on July 15, 1975. He attended Fruitland Baptist Bible Institute in Hendersonville, NC, and finally graduated with his Masters Degree from Midwestern Baptist Theological Seminary in 1986. Rev. Ralph Lee has pastored churches in North Carolina, Missouri, and South Carolina. He has also been involved in the racing ministry at the Kansas Speedway and as a local track chaplain at I-70 Speedway in Odessa, MO.
For 40 years, Ralph has been joyously married to Tammy, who also grew up in Cedar Mountain. Tammy is a paralegal. They have two wonderful daughters, Amanda L. Henley and Sophia G. Sineath. They also have a precious granddaughter, Caroline Henley.
Contact Pastor Ralph at
843-726-3631
or at
pastor@greatswampbc.com
.